Portable Coolers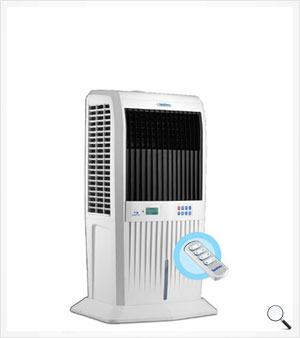 The all new Symphony Storm 70E is the world's first digital desert air cooler. While it cools every corner of your room, its sleek looks enhance the beauty of your place. Add to that a seven speed option and an attractive LCD display. The new Symphony Strom 70E is the best combination performance and style, and delivers beyond expectation.

Specification
Parameters
Storm 70E
For Rooms up to (sq. m. / sq. ft.)
80 / 800
Air throw dist m / ft
22 / 70
Engg. Plastic (Blower / Fan)
Blower
Blower diameter
240 / 10
Speed Control
Seven
Motor (RPM)
1250
Air delivery m3 / hr / CFM
3500 / 2000
Electrical*
110V / 60Hz
Wattage (W)
Max. Current (A)
220V / 60Hz
Wattage (W)
Max. Current (A)


495
4.7

460
1.9
Water tank capacity Gallons (US)
70 / 19
LCD display
Yes
Remote control
Yes
Portability
Wheel
Vertical louver movement
Automatic
Water inlet
Back
Water level indicator
Yes
Cooling Media
Honeycomb
Plastic mounting for motors
Yes
Motor cover
Yes
Product Dimensions (mm / inch)
Length
Breadth
Height

635 / 25
500 /20
1125 / 44
Carton Dimensions (mm / inch)
Length
Breadth
Height

600 / 24
452 / 18
1175 / 46
No. of units per 40 ft container (HC)
190
* Under test conditions, actual may vary depending on the ambient conditions and the heat load. All specifications are approximate and may vary ± 10% of the specified value. All products are subject to continuous improvement. The company reserves the right to change specifications without any prior notice. Inverter has to be of appropriate rating and of good quality.
Key Features

Attractive LCD Display with Remote
Perfect for premium interiors

Powerful Air Throw
Powerful 70 ft.* air throw with seven - speed option

Modular Pedestal with Robust Wheels
For easy movement

Low Power Consumption
Consumes 425 watts* only

Blow-out Performance
World's first desert air cooler with powerful blower

Large Tank Capacity (up to brim)
19 gallons (US) large tank capacity for longer cooling

3 side Honeycomb Pads
High - Efficiency cooling pad